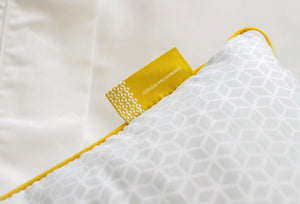 Brightr® Stella Pillow Extra Pillowcase, a luxurious blend of comfort and innovation. Elevate your sleep experience with the added touch of copper fibers, designed to bring a new level of freshness and health to your nightly routine.
Key Features:
Copper-Infused Comfort: The Brightr® Stella Pillow Extra Pillowcase is woven with copper fibers, introducing a natural and proven element known for its antimicrobial properties. Enjoy a pillowcase that not only pampers you with softness but actively works to inhibit the growth of bacteria for a cleaner sleep environment.

Temperature Regulation: Copper is celebrated for its excellent thermal conductivity. Experience a pillowcase that helps regulate your body temperature, keeping you comfortably cool in the summer and cozy warm in the winter. Say goodbye to restless nights due to temperature fluctuations.

Soothing and Gentle: The copper fibers in the pillowcase contribute to a soothing and gentle feel against your skin. Enjoy a touch of luxury every night as you lay your head on this exceptionally crafted extra pillowcase.

Stylish Design: The Brightr® Stella Pillow Extra Pillowcase seamlessly combines functionality with style. The sleek design and choice of colors make it a chic addition to any bedding ensemble, enhancing the aesthetic appeal of your sleep space.

Easy Maintenance: We understand the importance of convenience. The Stella Pillow Extra Pillowcase with copper fibers is easy to care for, ensuring that the benefits of copper endure with each wash.
Customer Reviews
12/08/2023
Evelyn

United Kingdom
Very happy with my new pillows and covers. I usually use feather pillows but this pillow was recommended to me so I purchased two. I have no regrets the pillows are so comfortable I look forward to getting into bed at night.
01/11/2022
Christine A.

United Kingdom
Best pillow ever
This is the absolute best pillow I have ever had!