The best pillows for side sleepers 2021
This seems to be a frequently asked question from our customers, as side sleepers do need a different type of support, than back or front sleepers. Therefore we have done a little research on what are the best side sleeper pillows in 2021.
Sleeping on your side is an optimal sleep position for many reasons, it is pretty much the only sleep position a pregnant woman can sleep at the later stage of the pregnancy, it is also recommended to people recovering from some surgeries. It is suggested that sleeping on your side, especially on your left side, can help with your digestion and even reduce heartburn. However, there are some disadvantages as well, as sleeping on your side can create stiffness in your shoulders and even create jaw stiffness.
That's why it is so much more important to find the right pillow. The best side sleeper pillows have more support and higher loft. But saying that, we all need to remember that not all our bodies are made the same and therefore the gap between the neck and your head that needs to be filled to create support is different, and that should be considered when choosing the right pillow for you.
Our suggestion would be to always choose a pillow, which has an ability to adjust to your head and neck distance, and always follow your personal preference to how soft or firm you prefer your pillow to be. 
The secret here is getting the pillow height just right. If it's too high, it will tilt your head upwards creating unnecessary tension and pressure. While if there is not enough support your head will be leaning downwards, again, creating tension on the neck, causing pressure points, making you toss and turn in bed and will disturb your sleep.
What are the different pillow types available for side sleepers?
Memory foam pillows
These are very popular as they do offer firmer support, for anyone who prefers it, they can come in both classic and anatomic pillow shapes, which will generally provide the same support.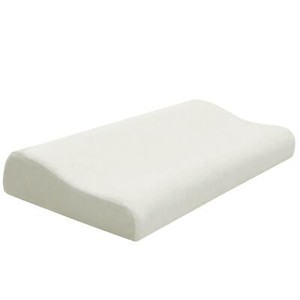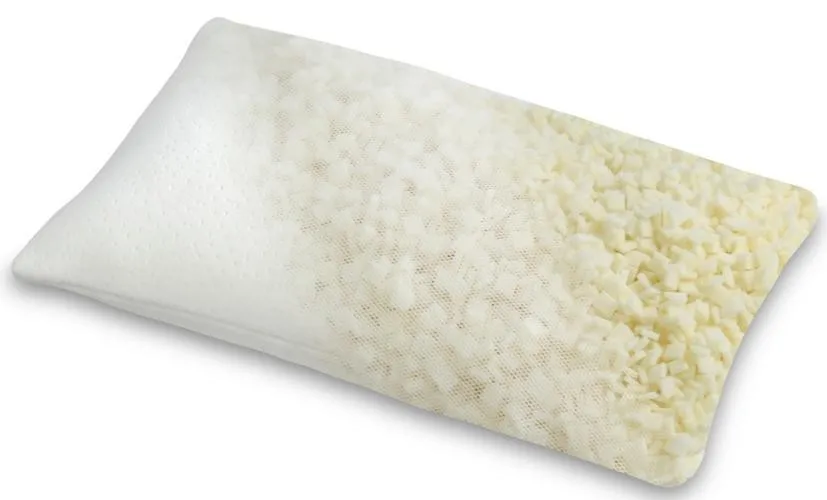 The anatomically shaped memory foam pillows will be more orthopaedic and will create higher support, while shredded memory foam pillows will be more flexible to your body shape.
Brightr Luna pillow is made from a combination of Graphene memory foam, which is the latest innovation in cooling memory foam technologies and Refinex soft as down recycled fibre fill. It is a perfect alternative to traditional memory foam pillows. The unique 3 layer design will allow you to create your perfect pillow fit no matter your body shape or size, and you will be able to enjoy cooling Graphene memory foam pillow benefits, in combination with soft as down comfort. 
Feather and Down pillows
It will be more difficult to find perfect side sleeper pillow in this category, as a feather and down pillows normally come in a standard size. And your only hope is that this size fits you. You certainly can fluff it, fold it and try to make it fit your sleeping position, but it could be a challenge. Be aware, that as it contains bird feather and down, some people might be allergic to it, plus they will come with a specific smell.
The perfect alternative to standard feather & down pillows is  Brightr Stella pillows made from soft as down Refinex sustainable filling, which is also infused with Copper. You will be able to enjoy luxury hotel pillow feel, without allergies and animal cruelty.  The  3-layer adjustable core, which allows you to create perfect pillow height, will help you get comfortable. Each layer has a different amount of filling, allowing you to create true customisation. Plus these pillows are copper-infused, so provides hypo-allergenic protection, odour elimination and help you sleep with cleaner skin. 
Fibre pillows
These will be as well, often marketed as side sleeper pillows, but they will generally be high loft and overstuffed, and if you have a shorter neck, you might find this pillow too high anyway. 
Brightr Nox pillow & Brightr Stella pillows are ultimate sustainable Refinex fibre pillows with 3-layer adjustable core, which allows you to create perfect pillow height.  Made from sustainable regenerated household plastics, which are turned into softest and dreamiest pillows you can sleep in peace that you are doing good for the planet too.
Latex pillows
Latex pillows are another alternative to side sleepers, usually, they are more expensive and moulded in classic or anatomic shape. They are rarely available as shredded latex foam pillows.  There are a lot of synthetic latex alternatives out there, so they are similar to foam products and natural latex as mentioned can be very expensive. They will offer a good amount of support, but you might have to get used to the bouncy feel of them. And as memory foam pillows, they usually come in one size – which usually is quite high loft and might not fit everyone.